Here is a link to the kitten info sheet I normally send to new owners, it will tell you most of the things you will need for your new family member
http://www.sempreragdolls.com/Taking home your Sempre Ragdoll Kitten.doc
Please note that some of this info has changed, we are using Kitter for our litter now, $20 for a 15kg bags or 3 for $50.
We are feeding a Grainfree Food from the Australia Pet Treat company, the Roo and sweet potato variety.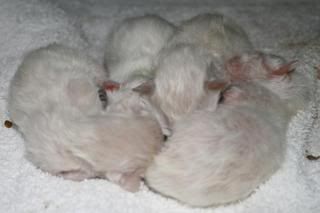 Sempre Ragdolls Kittens will leave home at around 12 weeks old after they have been desexed (unless leaving to a registered breeder, no exceptions), vacc x 2, wormed and microchipped.
They will leave with a kitten pack including samples of food and litter, toys, a blanket to remind them of home and a kitten folder containing heaps of info and also their Pedigree papers from NSWCFA (Papers may not be available until after the kitten leaves home and will be posted if needed) They also come with 6 weeks free pet insurance.
If a kitten needs extra time they will stay here until they are ready for their new home.
Breeders kittens may at times be available to registered breeders, for more details please fill in a Kitten enquiry Form.
Kittens will be available in Blue and Seal including carriers of Chocolate and also Chocolate and Lilac, also Red, Cream, Torties and Tabby's from time to time.
I have chosen to try to improve the Chocolate and Lilac colours which have a lot of work to do here in Australia although not as rare as they were their type needs improving. This is one of the aims of my program but I mainly just want to breed happy, healthy, well adjusted babies that will give as much joy to their new owners as mine do to me.
Please note my kittens will only go to strictly indoor homes, or with a secure outdoor enclosure. I can not stress this enough. I also can not let kittens go to a home with other indoor/outdoor cats as the risk that the other cat can bring home disease is to high. Cats allowed outside can be exposed to Feline Aids or Leukaemia to name just a few. Not to mention the risk from the roads, dogs and cat hating people. I love cats but I do not appreciate other peoples cats in my yard and neighbours have a right to not have your cats in their yard
Your kitten will not leave here without a cat carrier, please dont forget yours or you will need to go and get one before you can take your bub home.
I am always a little Hesitant of people who want to purchase a Kitten for a friend or brother or mother etc as a present, I really need to know about that person and would prefer to have contact with them before I would sell a kitten as a present.
Of course children who live at home are a little different as you as the parent are responsible for the animal.
Kitten Deposits
Pet kittens will require a $300 non refundable deposit.
Breeders will require a $500 non refundable deposit.
No kitten is considered sold until a deposit has been received.
Deposit are Not Refundable under any circumstances, Please do not ask because you have changed your mind as being told no may offend.
Kittens must be paid for in full before or on collection, No cheques accepted. (There is an Atm a few mins from our house if you need one)
I read somewhere
"The kitten you went to look at today and went home to think about tonight, will be sold tomorrow to the person who saw it yesterday and thought about it last night"
Meaning that if you really want a particular kitten please make it known and pay your deposit.
This is not to sound harsh or unfair but as a breeder it is very hard when someone has said "you can trust me" or "I will have it next week" etc this never happens and then we have the task of readvertising a kitten who is often older and we have often turned away other people who actually wanted that kitten but have gone elsewhere as we have told them that they were not available.
Kitten Pricing
Pet Kittens will be priced as follows:
Seal and Blue Kittens:
Boys $900
Girls $900
The difference between the price of boys and girls is directly due to the difference between the desexing costs of boys and girls.
All pet Kittens are desexed, no exceptions, ever.
Breeding Kittens Price on Application.
(Prices are subject to change)
Freight
Sempre Ragdolls is located around an hour from the airport so an animal transport company is required to take our babies there, the fee is around $100 on top of flight costs and your cat carrier.
You can now pay your deposit using Paypal, online and instantly.
This will give you the peace of mind that you are paying with a trusted company and your funds are protected.
There is a 4% surcharge which is on top of any amounts paid (this is payable by the purchaser)
Deposits for Pet Kittens.
Total is $312 inc surcharge
Deposit for a Breeding Kitten
Total is $520.00 inc surcharge
Breeding Kitten Deposit button above.
We are located at Riverstone, Western Sydney.
Between Blacktown and Windsor, about 10 mins from the new Rouse Hill shopping centre.
Please be aware that I rarely let Kittens go as breeders so if you are interested please give me as much information about yourself and your breeding plans as you can.
Ragdolls in Australia are unfortunately the "In" Thing and there are so many breeders that really are not breeding for the benefit of the breed. My goal is to improve the gene pool and the type of all Ragdolls if this is not your aim then I won't be able to help you.
I will only sell to breeders who early desex every pet kitten before they leave home, this is not negotiable ever. By desexing every kitten before it leaves home there is never the worry that a kitten will end up with a back yard breeder or a kitten mill and will enjoy the best life possible for them.
All of my Adult cats were tested and Clear of HCM , the DNA testing is cheap, quick and easy and now that it is so readily available everyone should be doing it to keep the breed strong.
There has been a few cats come back to be carriers of HCM and even one that is a +/+, If we do not test our cats these diseases that we thought were gone will be back if force in no time.
Once a cattery has tested all of their breeding cats they will generally no longer need to test offspring once they have clear test results.